DCLA Halen zoekt een jeugdtrainer of jeugdtrainster voor de benjamins, pupillen en miniemen. 
Ben jij de trainer of trainster die onze jonge atleetjes op een leuke en gezonde manier begeleidt tijdens de trainingen op dinsdag en donderdag van 18u30 tot 19u30? Neem dan snel contact op met Rik!
Ken je iemand die bij onze gezellige en sfeervolle atletiekclub past? Speel hem of haar dit bericht door: je doet ons en onze atleetjes er een heel erg groot plezier mee!
Voor onderstaande groep zoeken we deze trainer/ster. Groep wordt opgesplitst.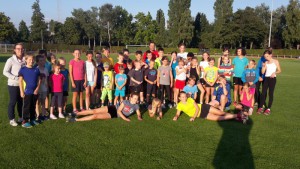 Natuurlijk mag je dit bericht ook delen op alle (sociale) media zoals Facebook of Twitter via de rode icoontjes onder dit bericht.